| | |
| --- | --- |
| 11:15am | ALPHY |
| 12pm | Lido Lunch Time Deal |
| 5:30pm | Early Bird Special |
| 5:30pm | $15 Steak Night** |
11.15am
BINGO
12pm
Lido Lunch Time Deal
5:30pm
Early Bird Special
5:30pm
$15 Parmigiana Night**
6:30pm
Members
Badge Draw¹

11:15am
FREE BINGO
12pm
Lido Lunch Time Deal
5:30pm
Early Bird Special
5:30pm
2 for 1 Pizzas*
6:00pm
Meat Raffle
Cash Spin Offl³
| | |
| --- | --- |
| 11:15am | BINGO |
| 12pm | Lido Lunch Time Deal |
| Lunch & Dinner | Kids Eat Free* |
| 5.30pm | Early Bird Special |
| 5.30pm | Lido Date Night Deal |
| 6:30pm | Cash King² |
| | |
| --- | --- |
| 12pm | Lido Lunch Time Deal |
| 5.30pm | Early Bird Special |
| 6:00pm | Live Music in the Lounge |
| 10:00pm | The Mix- DJ in the Lounge |
6:00pm
Duo in the Lounge
Soloist on the Terrace
10:00pm
The Mix- DJ in the lounge
5:30pm
Produce Raffle
Cash Spin Off³

Weekly Events subject to change. Christmas activities may replace some of the raffles and promotions listed above.

Lido Lunch Time Meal Deal*
Small Pasta + Garlic Bread + Small Soft Drink
Available Monday - Friday between 12pm and 2.30pm
$10 Members $12 Visitors

Early Bird Special*
Winter Warmer Meal + Sweet Tooth Dessert + glass of House Wine or Soft Drink
Available Monday - Friday between 5.30pm and 6.00pm
$25 Members $28 Visitors

Lido Date Night Deal*
Large Gourmet Pizza +Garlic Bread + Bottle of House Wine
Available Thursday 5.30pm - 9pm
$30 Members $33 Visitors

¹ LTPS/17/15173
² LTPS/17/15086
³ LTPS/17/01429

*Conditions Apply
** T&Cs Apply. Members Price $15, Visitors Price $17.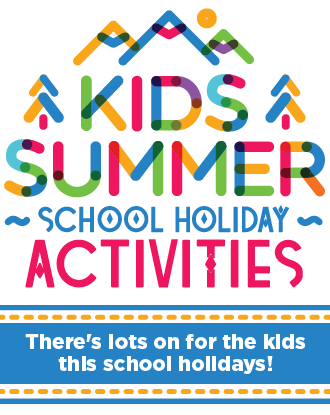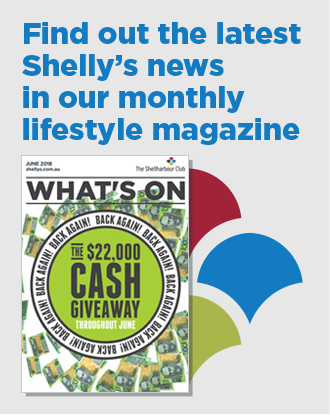 Get the latest news from Shelly's.
Sign up for our E-News now

LET'S BE FRIENDS!
FOLLOW US on Facebook for exclusive offers, great competitions and more.
LATEST NEWS
STREET EATS. STREET SCENE.

A new innvovative dining experience has arrived!
FIND OUT MORE

WANT TO LEARN A NEW SKILL?

We've launched a fun and quirky workshop schedule.
FIND OUT MORE

SOCIETY

We're now taking bookings for our new event space.
FIND OUT MORE
CEO UPDATES
Find out what's happening at The Shellharbour Club

The latest news and updates from the CEO.
FIND OUT MORE
OPENING HOURS
Sunday - Thursday: 10am - 4am
Friday, Saturday and Public Holidays: 10am - 6am

Christmas Day: Closed
Good Friday: Open